Product Description
Garmin Tri Tronics PRO 550 System
010-01202-00
The Garmin Tri Tronics PRO 550 System with proven Tri-Tronics® technology allows advanced training for the serious professional with easy access to 21 levels of momentary and continuous stimulation, tone as well as the ability to quickly switch between 3 dogs¹. Garmin Tri Tronics PRO 550 System features vibration and tone settings, remotely operated beacon lights on the dog device to help locate your dog in low light, the ability to add an Upland™ Beeper (purchased separately), and a built-in BarkLimiter, activated on the dog device, to help keep the peace at home.
Classic, Rugged Design
" Choose from 21 levels of continuous and momentary stimulation, tone, and vibration for up to 3 dogs at a time."
The Garmin Tri Tronics PRO 550 System uses the tried and true tube-shaped design that trainers have come to love, but is easy to operate (and master) 1-handed so you can keep your eyes on your dog at all times, even while switching between stimulation levels and dogs. The stimulation level/vibrate selection dial is at the top of the transmitter, allowing intuitive operation. Tone, beacon lights and beeper are controlled using the switch,and buttons on the face of the handheld unit. And the control buttons comfortably line up in the hand for fingertip control. A 2 ½-inch fixed transmitter antenna eliminates the threat of a lost or broken antenna while delivering up to 1 mile range.
Train with Stimulation and Tone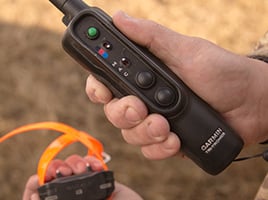 Garmin Tri Tronics PRO 550 System 010-01202-00
Handheld Physical & Performance
Unit dimensions, WxHxD: 1.8″ x 8.2″ x 2.1″ (4.5 x 20.8 x 5.4 cm)
Weight: 7.8 oz (221 g)
Range: 1 miles
Multi-dog compatibility: 3
Autorise bark correction mode: yes
Battery: rechargeable lithium-ion (included)
Battery life: 24 hours
Water rating: IPX7
Floats: yes
010-01202-50
Handheld Features
Correction levels: 18
Momentary/continuous correction: Both (low, medium and high)
Vibration correction: yes
Tone correction: yes (dedicated button)
Accessory unit activation: yes
010-01202-50
Dog Device 010-01209-10 Blue 010-01209-00 Red
Unit dimensions, WxHxD: 3.1″ x 1.7″ x 1.7″ (7.8 x 4.4 x 4.4 cm)
Weight: 3.5 oz (98 g)
Battery: rechargeable lithium-ion (included)
Battery life: up to 40 hours
Water rating: 1 ATM
Floats: no
Collar compatibility: 0.75″ (1.9 cm)
Dog Device Features
Beacon lights: yes
Vibration: yes
Accessory unit activation: yes
BarkLimiter™ mode: yes
Tone: yes